ASTM A240 Type 304H 20 mm Thick Stainless Steel Plate
Gangsteel produce and export ASTM A240 304H stainless steel plate, ASTM A240 TP304H Stainless Steel No.1 Finish Plate and we supply TP304H stainless steel stock list thickness 2mm to 300mm at Origin China. We are the large stainless material factory supplier in China.
We additionally offer metal fabrication service where steel plates can undergo processings like slicing , drilling, welding, milling, machining as you require. Our metal mills have fabricating employees which have 5-10 years of working experience. If you have an interest in shopping for ASTM A204 steel plate merchandise, contact us now for the newest worth or examine the following table for equal steel grade of ASTM A204. exposure of the 18-eight austenitic stainless steels to temperatures within the 800°F to 1500°F (427°C to 816°C) range may cause precipitation of chromium carbides in grain boundaries. Such steels are "sensitized" and topic to intergranular corrosion when exposed to aggressive environments. In some instances, the low carbon Alloy 304L might present a lower corrosion fee than the upper carbon Alloy 304. The information for formic acid, sulfamic acid, and sodium hydroxide illustrate this.
304h Rectangular tube
Contact Us
Mr Jack
Email:
jack@gangsteel.com
Phone:
Whatsaap:008613598879167
For more extreme applications, welded areas must be treated with a descaling resolution similar to a mixture of nitric and hydrofluoric acids, and these must be subsequently washed off. The austenitic stainless steels are considered to be essentially the most weldable of the high-alloy steels and could be welded by all fusion and resistance welding processes. Our major objective is to ship high quality products in time, irrespective of the place the client is situated. Stainless Steel Plate Sheets are manufactured and managed to international requirements such A240 SS304H Stainless factory as ASTM, ASME, BS, MSS, EN, DIN or WERKSTOFFE. Documentation is a very important part of the merchandise we supply, and we work constantly to boost the effectivity of the document-dealing with course of without compromising high quality of the product. Documents provided together with the shipment include Certificate of Origin, Material Test Certificate as per EN .1 and .2, NACE MR10103 and NACE MR0175 licensed Test Certificates. Sheet Strip is a flat product which, instantly after the ultimate rolling cross or after pickling or continuous annealing is wound into laps in order to type a coil.
304h seamless tubes
304H stainless steel belt, SUS304H stainless steel belt, 304H stainless steel belt, 0Cr18Ni9, 304-general model; namely 18/8 stainless steel. The GB grade is 0Cr18Ni9.
Vickers hardness (HV) 370°-420° and Hardness tolerance (HV) ±20°
Relative Keywords:
304h|304 house|304h stainless steel|304h vs 304l|304h stainless|304h chemical composition|304h pipe|304h ss|304h material|inox 304h|sa 240 304h|veh-304hcd-k|304h round bar|304h stainless steel properties|has-304h|304h plate|super 304h chemical composition|cdv2-304hn n|f304h|a240 304h|f-c304h|304h sheet|304h edelstahl|c304h|super 304h composition|lfd-304h|s-304h-cct|est-304h|veh-304hcc-k|304h vs 304|304h pipe suppliers|hlh-304h|304h steel|304h stainless steel round bar|304h stainless steel sheet|304h fittings|304h vs 304l stainless steel|s-304h-ab|304h composition|304h stainless steel composition|304h stainless steel temperature limits|yt-304h|welding 304h stainless steel|304h werkstoff|aisi 304h properties|304h outokumpu|zinsser 304h|cdv2-304hn n pdf|density of 304h stainless steel|
a240 Type 304H widely used material.
Corrosion resistance, heat resistance, good mechanical properties, good processing performance at room temperature such as deep drawing, bending, etc., will not harden after heat treatment, can withstand general rust in the building, and can resist erosion by food processing media (but contains concentrated acid
Corrosion may occur due to high temperature and chloride components), and it can resist organic compounds, dyes and a wide variety of inorganic compounds.
ASTM A240 Stainless Steel 304H Chemical Composition
Type

Grade

ASTM A240 Chemical Composition

ASTM(A240M)

Others(JIS)

C

Si

Mn

P

S

Ni

Cr

Mo

Others

Austenitic Steels

304H

0.04/0.10

≤0.75

≤2.00

≤0.045

≤0.030

8.0/10.5

18.0/20.0

―
A240 Type 304L (low carbon), good resistance to nitric acid, and durable for medium temperature and concentration of sulfuric acid, widely used as liquid gas storage tanks, low temperature equipment (304N), appliances and other consumer products, kitchen equipment, hospital equipment, transportation Tools, wastewater treatment equipment.
Alloy 304 (S30400), 304L (S30403), and 304H (S30409) stainless steels are 18% chromium, 8% nickel austenitic alloys, which are the most common and commonly used alloys in the stainless steel family. Because these alloys have one or more of the following properties, they can be used in various applications.
Properties include:
STM A240 TP304H Stainless Steel Plate Physical Properties
Grade

Density (kg/m3)

Elastic Modulus (GPa)

Mean Coefficient of Thermal Expansion (m/m/0C)

Thermal Conductivity (W/m.K)

Specific Heat 0-1000C (J/kg.K)

Electrical Resistivity (n.m)

0-1000C

0-3150C

0-5380C

at 1000C

at 5000C

304H

8000

193

17.2

17.8

18.4

16.2

21.5

500

720
A high-alloy steel A240 304h that can resist corrosion in the air or in chemically corrosive media. It has a beautiful surface and good corrosion resistance. It does not need to undergo surface treatment such as plating, but exerts its inherent surface properties. It is used in various steels.
One kind, usually called stainless steel.
High alloy steels such as 13 chromium steel and 18-chromium nickel steel are representative of performance.
Others relative stainless keywords:
what is 304h material| 304h |304h plate in houston|304h hardness|304h high temperature|304h hardness brinell|304h pipe houston|what is 304h stainless|aço inox 304h|jis 304h|304h loader|304h larson miller|lnt 304h|304h john deere loader|304h john deere|tube inox 304h|acero inoxidable 304h|soudage inox 304h|gatunek 304h|sa240 gr 304h|304h pipe and fittings|stainless steel 304h flanges|304h stainless steel fittings|f304h vs f304|304h ferrite number|304h filler metal|304 h en minute|304h flat bar|304h flanges|f304h chemical composition|f304h equivalent|304h grain size|304h grade|gd-304h|a240 gr 304h|sus f304h|werkstoff f304h|sa 182 f 304h|a182 f304h chemical composition|a182 f304h temperature|lnm 304h|
From a metallographic point of view, because stainless steel contains chromium, a very thin chromium film is formed on the surface. This film isolates the intruding oxygen from the steel for corrosion resistance.
In order to maintain the inherent corrosion resistance of stainless steel, steel must contain more than 12% chromium
SS 304H Plate Equivalent grades
| | | | | | | | |
| --- | --- | --- | --- | --- | --- | --- | --- |
| STANDARD | WERKSTOFF NR. | UNS | JIS | AFNOR | BS | GOST | EN |
| SS 304H | 1.4948 | S30409 | – | – | – | – | – |
304, 304L, and 304H alloys are the most prone to stress corrosion cracking (SSC) among austenitic stainless steels because of their relatively low nickel content.
The conditions that cause stress corrosion cracking are: (1) the presence of halide ions (usually chloride), (2) residual tension, and (3) the temperature exceeds 120°F (49°C).
Cold deformation during alloy forming, stenting into tube sheet, welding operations, etc. can all cause stress.
Annealing and stress relief heat treatment after cold deformation can reduce stress, thus reducing the possibility of halide stress corrosion cracking.
In the environment that may cause intergranular corrosion, it is best to choose low-carbon 304L alloy when working under low-temperature annealing.
AASTM A240 Stainless Steel 304H Plate Mechanical Properties
Type

Mechanical Properties for Stainless Steel Plates, Stainless Steel Sheet

ASTM(A240M)

Others(JIS)

Tensile Properties

Hardness

Yield Strength (Mpa)

Tensile Strength (Mpa)

Elongation (%)

HBW

HRBW

AusteniticSteels

304H

≥205

≥515

≥40

≤201

≤92
304H stainless steel plate is typically stocked in thicknesses between 0.188" and 2.0". For extra sizes and questions relating to 304H stainless-steel plate, contact a Penn Stainless group member for assistance. It even has outstanding formability, super strength that makes the product reliable and durable too. This chrome steel is also recognized to be the most weldable excessive alloy steel. In it, you can see the use of the carbon content material that of 0.04 to 0.10 that strengthen the product and make it able for use in the excessive temperature. They are extremely utilized in the manufacturing of warmth exchangers and chemical procedure vessels, tankers, or storage.
Why is ASTM important?
ASTM helps to ensure that only quality, raw materials are used to produce bearings and other industrial goods. The standards are highly-regarded throughout the plastic supply chain.
ASTM A240 TP304H Stainless Steel 2D Finish Plate
They are utilizing the newest tools and techniques for manufacturing the most effective product to meet the necessities and calls for of the market in addition to shoppers. We are all the time referring to worldwide and nationwide requirements to take care of the standard standard of Stainless Steel 304H Sheets & Plates. Before dispatching the merchandise, our high quality management team members are performing numerous damaging and non-harmful tests to examine the efficiency and energy of Sheets and plates. We, Goodluck Metal Corporation, are providing Stainless Steel S30409 Sheets & Plateswith some further benefits and features such as highly resistant to corrosion and oxidation, high strength, good finish, strong construction, and toughness. These Sheets and plates don't require any warmth therapies to keep up its excessive strength and ductility. While designing these, we comply with all nationwide and international quality standards to make sure good dimensional accuracy. Goodluck Metal Corporation is an outstanding agency out there for manufacturing and supplying Stainless Steel 304H Sheets & Plates .
304h material equivalent|304h thermal expansion|304h stainless steel equivalent|304h din|aisi 304h datasheet|304h 304l difference|john deere 304h parts|304h stainless steel density|304h round bar houston|304h bmtc bus route|304h allowable stress|304h alloy|aisi 304h stainless steel|a479 304h|304h angle|304h astm|304 honey|304 help|304h tubing|a358 304h|astm 304h stainless steel|304h bearing|304h barden|304h bolts|b-304h|304h bar|304h bar stock|a 312 tp 304h|a 240 304h|304h bus route|aisi 304h equivalent|304h pipe europe|hb-304h|veh-304hpd-h|what is 304h stainless steel|
Why is stainless steel so expensive?
Stainless steel is more expensive to produce because of the addition of the variety of alloying elements, such as iron, chromium, nickel, manganese and copper. The chromium attaches itself to oxygen more readily than iron and thus creates a chromium oxide layer which protects the metal from degradation.
Heat exchangers, piping, tanks, and different course of tools involved with fresh water additionally make the most of these alloys. The time period 'corrosion resistant steel' is used when the alloy has lower than the 12% minimum of chromium, for instance in the aviation industry. There are totally different grades and floor finishes of stainless-steel, relying on where it will be used. Stainless steels have a better resistance to oxidation and corrosion in many natural and man-made environments; nonetheless, you will need to select the proper sort of chrome steel for the use. There are over one hundred fifty grades of chrome steel, of which fifteen are probably the most used. We, Goodluck Metal Corporation, are manufacturing Stainless Steel 1.4948 Sheets & Plates with premium quantity and quality of raw materials by taking advice from our professional team.
Cold-rolled steel Coil is a more highly completed product and has a smoother floor, larger dimensional accuracy and larger power. SS 304H Rolled Sheet Coil and Stainless Steel Rolled Sheet Coil is in ready inventory with Siddhagiri Metals and Tubes. ASTM A240 steel plate covers Austenitic Steels, Ferritic steels and Martensitic Steels. Alloy 304/304H (UNS S30400/ S30409) is a modification of essentially the most extensively utilized "18-eight" chromium-nickel austenitic stainless-steel. The carbon content is managed in the vary of 0.04-0.10% for elevated power at temperatures above 800°F (427°C). It is an economical and versatile corrosion resistant alloy suitable for a wide range of general purpose applications. Alloy 304 is the usual alloy since AOD know-how has made lower carbon ranges extra simply attainable and economical.
This combination of properties is the explanation for the in depth use of those alloys which characterize nearly one half of the whole U.S. chrome steel production. The 18-8 stainless steels, principally Alloys 304, 304L, and 304H, can be found in a variety of product types together with sheet, strip, and plate.
This property is especially helpful in holding cryogenic (very-low-temperature) supplies.
It is used for storage tanks in lots of industries, partly as a result of some aluminium alloys turn into more durable at supercold temperatures.
The alloys are used broadly in gear and utensils for processing and handling of food, beverages, and dairy merchandise.
Heat exchangers, piping, tanks, and different process gear involved with fresh water additionally make the most of these alloys.
The Alloys 304, 304L, and 304H austenitic stainless steels present useful resistance to corrosion on a wide range of reasonably oxidizing to reasonably decreasing environments.
Generally, one hundred ppm chloride is considered to be the restrict for the 18-eight alloys, significantly if crevices are present. For the more extreme situations of higher chloride ranges, lower pH, and/or larger temperatures, alloys with higher molybdenum content corresponding to Alloy 316 ought to be considered.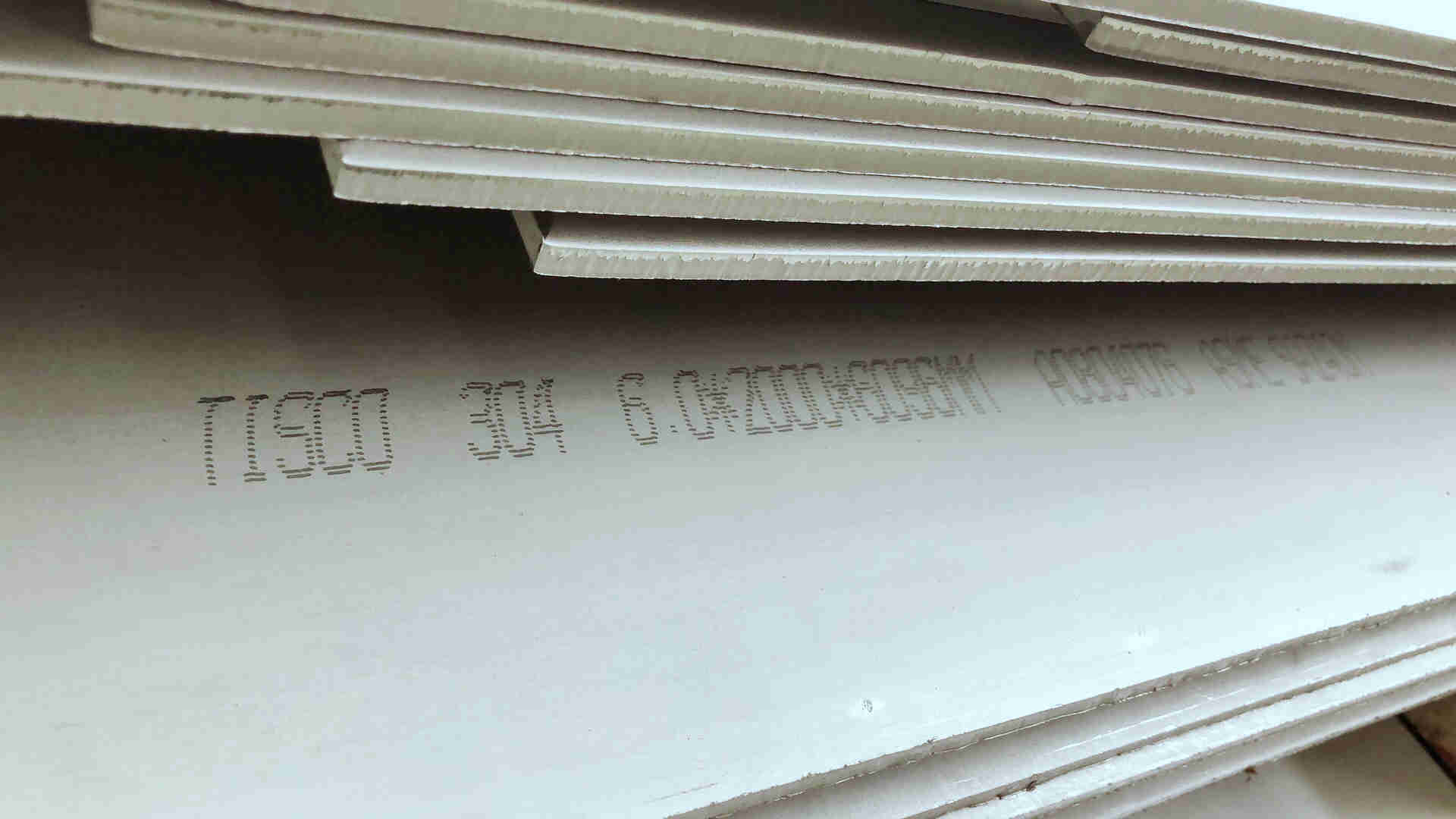 density of 304h|nssw yt-304h|304h plate suppliers|304h properties|304h oj-201|304l or 304h|304 or 304h|304h 1.4948|suppliers of 304h stainless steel|sensitization of 304h stainless steel|ss 304h material|304h 304|ldm-304h-xy|l-304 hd|304h 304l|lincoln lnt 304h|sa-479-304h|ldm-304h|linija 304h|304 hp l|304h material properties|super 304h material|y2-304h|304h p number|304h metallurgy|sa-240 304h properties|304h material composition|304h mechanical properties|304h means|n-304h|304h pwht|thermanit 304h|temperature 304h|t-304h|type 304h|tbi 304h|304h tensile strength|304h tig wire|tp 304h stainless steel|304h uns|304h plate uk|304h vs 347h|304h vs 316h|304h vs 316|304h stainless steel use|304h vs 304 ss|304h vs 310|304h stainless steel uk|304h vs 321h|s304h|s-304h-cctk|304h temperature range|304h stainless round bar
ASTM A240 TP304H Stainless Steel Plate
Qfsteels is specialised to export ASTM A240 metal plate in A h a few years. We even have slicing manufacturing unit which may minimize stainless element based on our buyer requirement. Alloys 304, 304L, and 304H are additionally resistant to reasonably aggressive organic acids corresponding to acetic and reducing acids similar to phosphoric. The 9 to 11 p.c of nickel contained by these 18-eight alloys assists in offering resistance to reasonably reducing environments. The extra highly lowering environments corresponding to boiling dilute hydrochloric and sulfuric acids are shown to be too aggressive for these materials. We have about 3000tons every thickness and measurement stainless plates and huge warehouse. Please contact us by e-mail if any requirement in stainless steel materials.
aisi 304h
|what is 304h|rx-304h|304h yield strength|304h vs 316l|p-304h-ab|304h round bar uk|john deere 304h wheel loaders|sharp rp-304h|304h stainless steel data sheet|304h stainless steel chemical composition|john deere 304h loader specs|304h welding wire|304h welding|304h rohre|super 304h welding|304h pipe stock|tole inox 304h|husky c304h air compressor|304h data sheet|304h density|deere 304h specs|p-304h-cct|crane 304h cam|304h carbon content|304h chemistry|304h coefficient of thermal expansion|304h creep strength|deere 304h|deere 304h for sale|304h equivalent|
Gangsteel mainly products are 304h Square tube,304h stainless,304h Rectangular tube,304h seamless pipes,304h seamless tubes,304h welded pipes,304h angle bar,304h H Beam,304h channel beam,304h round bar ,304h cutting part,304h machine part,304H CNC cutting parts,304H water jet cutting parts,304H laser cutting parts and stainless steel 304h. If you have requirement, please contact us by email admin@gangsteel.com
ASTM A240 304h stainless plate