ASTM A240 304L stainless steel plate hardness Manufacturer
gangsteel supply astm a240 304l Stainless steel plate thickness 1mm to 300mm. the max width 2800mm. We also provide laserjet and water jet cutting for stainless grade astm a240 304l,astm a240 type 304l.a240 304l material cutting parts,a240-304 machine parts,a240 304 flat bar ,sa240 304l welded pipe.
a240 grade 304 seamless pipe,a240-304l waterjet cutting disc,a240-304 material,a240 tp304l laser cutting parts,astm a240 304l mechanical properties,astm a240 304l chemical composition,astm a240 304l properties,a240,gr 304l Origin China,sa240 tp 304l angle bar,a240 type 304l square pipe,sa240 type 304l angle steel mill,astm a240 304l stainless steel,astm a240 304l density,astm a240 304l specification.
Stainless metal plate is sometimes called "corrosion-resistant metal" – it does not stain, corrode or rust as simply as normal carbon steel. It differs significantly from normal carbon steel as a result of amount of chromium current, which limits surface corrosion in contrast to carbon metal which can rust when uncovered to air and any moisture within the atmosphere. Due to its anti-oxidation qualities, chrome steel is often a popular answer. A temperature gradient is produced within the material being welded which ranges from above the melting temperature within the molten pool to ambient temperature at a long way from the weld. The higher the carbon level of the material being welded, the higher the chance that the welding thermal cycle will end result in the chromium carbide precipitation which is detrimental to corrosion resistance. To present materials at the best level of corrosion resistance, low carbon materials ought to be used for materials put in service in the welded condition.
a240 304l material cutting parts
What is ASTM A240 304L Stainless steel grade?
304L stainless steel is a universal stainless-steel material.
Grade of 304L stainless steel:
The old standard JB / T 4237-1992 corresponds to 00Cr19Ni10
New standard GB / T 20878-2007 grade and chemical composition of stainless steel and heat resistant steel
And GB 24511 2009 stainless steel plate and strip for pressure equipment
Corresponding to 022cr19ni10, its carbon content is about 0.03%
The unified digital code s30403 is different from s30408 of 304
What is Stainless steel ASTM a240 304l chemical composition and astm a240 304l mechanical properties?
Analysis of chemical composition% of 304L stainless steel
Carbon C: ≤ 0.03,
Silicon Si: ≤ 1.0,
Mn: ≤ 2.0,
Cr: 18.0-20.0,
Ni: 9.0-12.0,
Sulfur s: ≤ 0.03,
Phosphorus P: ≤ 0.045;
mechanical property
The mechanical properties of 304L stainless steel are as follows
Yield strength (n / mm2) ≥ 205
Tensile strength ≥ 520
Elongation (%) ≥ 40
Hardness HB ≤ 187 HRB ≤ 90 HV ≤ 200
The stainless steel rods
The stainless steel rods
The density was 7.93 g · cm-3
Specific heat C (20 ℃) 0.502 J · (g · C) – 1
Thermal conductivity λ / w (m ·℃) – 1 (at the following temperature / ℃)
20 100 500
12.1 16.3 21.4
Linear expansion coefficient α / (10-6 / ℃) (between the following temperatures / ℃)
20~100 20~200 20~300 20~400
16.0 16.8 17.5 18.1
The resistivity is 0.73 Ω· mm2 · M-1
Melting point 1398 ~ 1420 ℃
Grade

ASME SA240 304 Mechanical Strength

Yield

Tensile

Elongation

Hardness, max

A240 304L

Min Mpa

Mpa

Min %

Brinell

Rockwell B

205

515

40%

201

92
Plate Grade

The Element Maximum (%)

C

Mn

P

S

Si

Cr

Ni

ASTM A240 304L

0.03

2.00

0.045

0.030

0.75

18.0-20.0

8.0-10.5

Mo

N

Cu

0.10
What is astm a240 304l density?
Steel Grade

Density(g/cm3)

304,304L,305,321
201,202,301,302

7.93

316,316L,347
309S,310S

7.98

405,410,420

7.75

409,430,434

7.7
What is astm a240 specification other grade?

304 is a kind of universal stainless steel, which is widely used to make equipment and parts with good comprehensive performance (corrosion resistance and formability).
301 stainless steel presents obvious work hardening phenomenon during deformation, which is used in various occasions requiring higher strength.
302 stainless steel is essentially a variety of 304 stainless steel with higher carbon content, which can obtain higher strength by cold rolling.
302B is a kind of stainless steel with high silicon content, which has high oxidation resistance at high temperature.
303se and 303se are free cutting stainless steels containing sulfur and selenium respectively, which are mainly used in the occasions requiring easy cutting and high surface finish. 303se stainless steel is also used to make machine parts requiring hot upsetting because it has good hot workability under such conditions.
304L is a variant of 304 stainless steel with low carbon content, which is used for welding. The lower carbon content makes the carbides precipitated in the heat affected zone near the weld to a minimum, and the precipitation of carbides may cause intergranular corrosion (welding corrosion) of stainless steel in some environments.
304n is a kind of stainless-steel containing nitrogen. The purpose of adding nitrogen is to improve the strength of steel.
305 and 384 stainless steels contain high nickel, and their work hardening rate is low, so they are suitable for various occasions with high requirements for cold formability.
308 stainless steel is used for welding rod.
The contents of Ni and Cr in 309, 310, 314 and 330 stainless steels are relatively high in order to improve the oxidation resistance and creep strength of the steels at high temperature. However, 309S and 310S are variants of 309 and 310 stainless steels, but the difference is that the carbon content is low, so as to minimize the carbide precipitated near the weld. 330 stainless steel has high carburizing resistance and thermal shock resistance
Type 316 and 317 stainless steels contain molybdenum, so their pitting corrosion resistance in marine and chemical industry environments is much better than that of 304 stainless steel. Among them, type 316 stainless steel includes low carbon stainless steel 316L and high strength stainless steel containing nitrogen.
316N and 316F, a free cutting stainless steel with high sulfur content.
321, 347 and 348 are stainless steels stabilized with titanium, niobium plus tantalum and niobium respectively. They are suitable for welding at high temperature. 348 is a kind of stainless steel which is suitable for nuclear power industry.
The forging property of 304L stainless steel is poor and the deformation is difficult.

Supply ASTM A240, 304L, 316LN, 316H, 316Ti, 309S, 310S stainless steel


1. Steel Grade: A240 TP201, TP202, TP304L, TP309S, TP310S, TP316L, TP321, TP405, TP430, TP630, 2205, 2507

2. Available Size: thickness: 1-100mm, width: 500-2500mm, length: 1000-6000mm

3. Delivery Condition: No.1, No.2D, No.2B

4. Delivery Time: 3 days

5. Payment Item: TT or L/C

6. Trade Terms: FOB, CFR or CIF

7. Inspection: MTC, TPI (ABS, BV, LR, TUV, SGS), PMI Test.

If you need ASTM A240, TP304, TP316L, TP316H TP316Ti, TP309S stainless steel, please contact us freely.
SS 304L Foil is a really skinny sheet of Stainless Steel that has been hammered or rolled flat. SS 304L Foils could be made from any kind A240 SS304L steel plate MILL of metallic, though the most generally found foils are aluminum foil and gold foil.
A notable exception is in environments sufficiently corrosive to cause intergranular corrosion of welds and warmth-affected zones on susceptible alloys. The Alloy 304L is most well-liked for use in such media within the welded situation for the reason that low carbon level enhances resistance to intergranular corrosion.
ASTM A240 304L stainless chemistry Manufacturer
Contact Us
Mr Jack
Email:
jack@gangsteel.com
People also ask:cres 304l|a240 304l|304l yield strength|tensile strength of ss 304|ss 304l price|sa240 tp304l|1.4306 steel|ss 304 material specification|1.4307 stainless|sa213 tp304l|304l stainless steel chemical composition|aisi 304l mechanical properties|304l mechanical properties|ss 304 round bar price|304 and 304l|din 1.4307|aisi 304l chemical composition|sa 240 gr 304 material|304 round bar|ss 304l material properties|304l properties|a312 304l|304l stainless steel yield strength|aisi 304l 2b|ss304l material|304l sst|ss 1.4307|304l 2b|sa 240 gr 304l|astm s30400|304l carbon content|din 1.4306|aisi 304l properties|1.4307 aisi 304l|304l material properties|astm a312 304l|ss 304 round bar suppliers|aisi 304l composition|uns s30400 mechanical properties|sae 304l|type 304l|1.4307 stainless steel properties|sa 240 gr 304l mechanical properties|sst 304l|aisi 304l specification|1.4306 specification|astm a240 type 304l|304l austenitic stainless steel|1.4307 material properties|
ASTM stainless A240 304L price per kg Manufacturer
If you are about to import 304 Stainless Steel Plate, you can examine the 304 Stainless Steel Plate and producers with reasonable price listed above. More related choices similar to stainless-steel sheet, stainless-steel, stainless-steel plate could be . The broad utilization of 304/304L chrome steel in meals and beverage and pharmaceutical functions displays the corrosion resistance qualities of those materials. These industries demand that materials do not launch vital quantities of contaminants into the product. For example, liquid blending and storage tanks are readily cleaned, offering correct hygiene in meals prep as well as meals and beverage handling. Commercial dishwashing detergents remove ninety seven% of microorganisms adhering to stainless-steel surfaces. Flavor and color are stored intact, with no impression from contact with the tank material.
In ASTM A240, sort 316 and 316L is a chromium nickel austenitic metal, Element molybdenum addition can enhances corrosion resistance of chrome steel, which is the principle factor that 316/316l is more corrosion resistant than 304/304l.
Metline is a number one producer and supplier of hot rolled stainless-steel sheets and plates manufactured in compliance with ASTM, ASME and EN standards.
Stainless Steel Sheets & Plates Hot Rolled, Annealed & Pickled No.1 Finish in Size Range of 3mm to 100mm.
Product Description Stainless Steel Sheetsfind extensive use in several industries for varied manufacturing functions. The sheets are manufactured in compliance with ASTM/ ASME A/ SA 240 quality requirements. To match with the variegated requirements of our precious shopper base, we provide these sheets in distinguished sizes, thicknesses and dimensions.
Relative keywords: 304l|304l stainless steel|aisi 304l|chemical composition of ss 304|sus 304l|composition of ss 304|ss304l|1.4307 stainless steel|304l stainless steel properties|ss 304 material properties|1.4307 material|304l steel|sa 240 gr 304|1.4306 material|304l chemical composition|ss 304l chemical composition|304l ss|304l stainless steel composition|sa 240 304l|astm a312 tp304l|yield strength 304|304l composition|uns s30403|304 stainless composition|304 stainless yield strength|ss 304 tensile strength|material 304l|1.4307 steel|s30403|aisi 304l stainless steel|sa 479 304|ss304l composition|1.4306 stainless steel|astm 304l|sa 240 type 304|ss 304 material composition|304l stainless steel price|astm a240 304l|ss304l properties|1.4307 chemical composition|sa312 tp304l|
ASTM A L Stainless Steel Sheet, Plateis essentially the most extensively used industrial grade of chrome steel provided into numerous business sectors.SS 304L Platehas wonderful corrosion resistance in strange atmospheric circumstances, it is easily machined and can also be simple to weld. There are two European steels of the '304L' type, 1.4306 and 1.4307. The 1.4301 and 1.4307 have carbon ranges of 0.07% most and 0.030% most, respectively.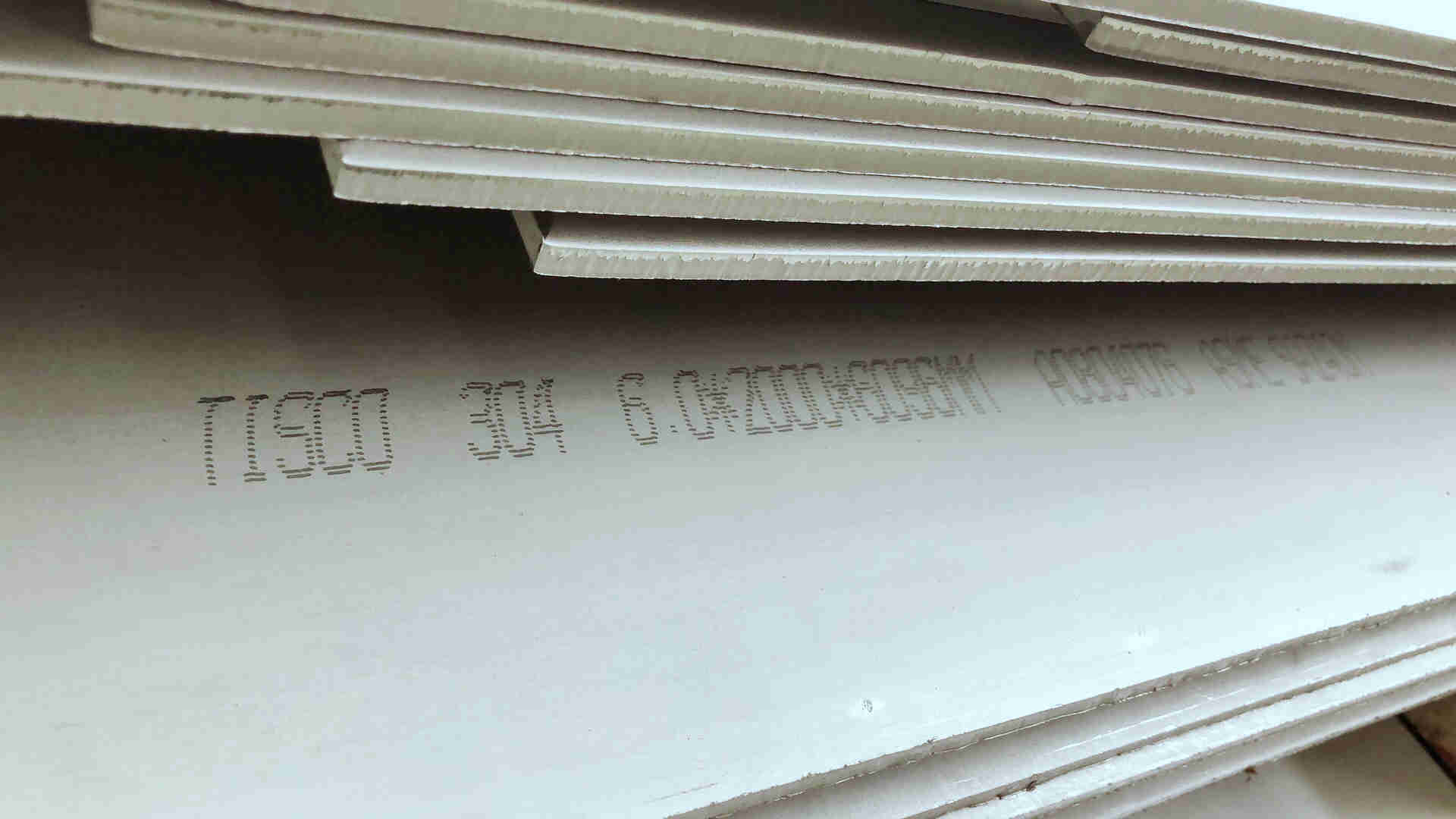 ASTM A240 304L stainless steel plate elongation Manufacturer
Alloy 304 is the standard alloy since AOD know-how has made decrease carbon ranges extra easily attainable and economical. Alloy 304L is used for welded merchandise which may be uncovered to conditions which may trigger intergranular corrosion in service. 460 yield metal plate has wonderful weldability, excessive energy to weight ratio significantly lowering weight of overall parts A yield guaranteed 450N/mm2 and three.2 Lloyds register. Marlin Steel is a number one producer of custom‐engineered merchandise from metal wire and sheet steel. Its industrial materials handling containers serve many industries together with aerospace, defense, medical and automotive.
Duplex Stainless Steel Plate Market Size, Trends and Top Manufacturers 2020 to 2027 – Aerospace Journal
Duplex Stainless Steel Plate Market Size, Trends and Top Manufacturers 2020 to 2027.
Posted: Tue, 03 Nov 2020 07:03:13 GMT [source]
This growth was the start of a family of alloys which has enabled the advancement and progress of chemical processing and power generating methods upon which our technological society is predicated. Subsequently several important sub-classes of stainless steels have been developed. The sub-classes are austenitic, martens tic, ferritic, duplex, precipitation hardening and super alloys. Type 304 Stainless Steel is probably the most broadly used of the austenitic (chromium/nickel) stainless steels. In the annealed condition it is primarily non-magnetic and turns into barely magnetic with the applying of chilly work.
Is 304 stainless steel a surgical grade?
Austenitic 304 and 316 stainless steels are considered surgical or medical-grade stainless steels, they are the most commons stainless steels. 316 stainless steel contains molybdenum, but 304 does not.
For more severe applications, welded areas should be treated with a descaling resolution corresponding to a mix of nitric and hydrofluoric acids, and these ought to be subsequently washed off. Alloys 304, 304L, and 304H are also resistant to moderately aggressive natural acids similar to acetic and decreasing acids corresponding to phosphoric. The 9 to 11 % of nickel contained by these 18-eight alloys assists in providing resistance to reasonably reducing environments.
Alloy and stainless steel makers revisit strategy in COVID times – THE WEEK
Alloy and stainless steel makers revisit strategy in COVID times.
Posted: Tue, 03 Nov 2020 00:22:57 GMT [source]
The commonest form of 304 stainless-steel is eighteen-8, or 18/8, chrome steel, which incorporates 18 % chromium and 8 percent nickel. Leading Wholesale Supplier of stainless steel 304 coil, stainless-steel 310, stainless steel 904l, chrome steel bars, stainless steel brilliant bar and stainless steel channels from Mumbai. For materials exposed inland, mild industrial, or milder service, minimum upkeep is required. Only sheltered areas need occasional washing with a stream of pressurized water.
astm a240 304l,astm a240 type 304l,a240 304l material cutting parts,a240-304 machine parts,a240 304 flat bar ,sa240 304l welded pipe,a240 grade 304 seamless pipe,a240-304l waterjet cutting disc,a240-304 material,a240 tp304l laser cutting parts,astm a240 304l mechanical properties,astm a240 304l chemical composition,astm a240 304l properties,a240 gr 304l Origin China,sa240 tp 304l angle bar,a240 type 304l square pipe,sa240 type 304l angle steel mill,astm a240 304l stainless steel,astm a240 304l density,astm a240 304l specification,a240 tp 304l in 7days delivery time,astm a240 304l plate,a240 304l material stock list,astm a240 grade 304l,astm a240 gr 304l stocklist thick 5-300mm,astm a240 304l yield strength,ASTM A240 304L stainless Manufacturer,ASTM A240 304L stainless steel plate Manufacturer,
ASTM 304 v A240 304L stainless steel plate Manufacturer